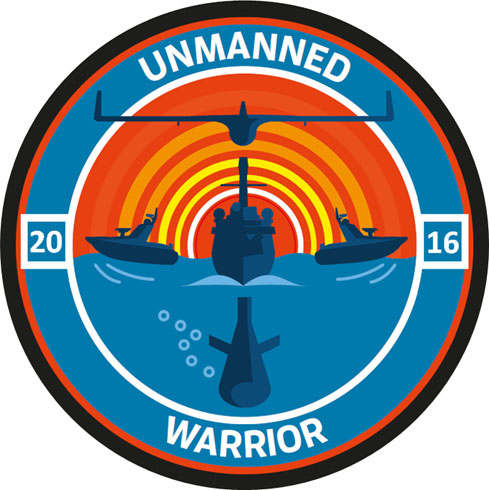 The upcoming Unmanned Warrior exercise takes place during October 2016 in Scotland.
Unmanned Warrior is the largest ever demonstration of unmanned and autonomous vehicles ever held. With over 50 vehicles collecting data remotely in the air, on the surface, and underwater - and with participants from industry, academia and defence -  it is an extremely complex event to plan. However, despite the complexity, Unmanned Warrior 2016 is the first UK MOD exercise to dispense with spreadsheets, PowerPoint and paper – how is this being achieved?
The answer is advances in technology changing how we can use Geographic Information Systems (GIS), and the impact they can have in effects based operations. Using a cloud-based GIS service allows the 40 plus participating organisations - who have never worked together in such a way - to view and contribute to the plan collaboratively from their own office locations.
This is interesting for two reasons. From a technology perspective the 100 plus registered participants know that they are always working against the latest version of the plan; they can access this information from any device, from any location and at any time. From an attitudinal perspective, this appetite to explore a new, innovative approach is making the planning of this hugely complex exercise truly collaborative while minimising risk. ArcGIS Online – the collaborative, cloud-based Unmanned Warrior planning portal Data and information are strategic assets that need to be managed and exploited across the entire enterprise in order to achieve information superiority and support decision makers at all levels; these are key supporting outcomes of the Defence Information Strategy (DIS). Furthermore, these information capabilities need to be delivered in a manner that provides users with a set of common corporate and differentiated services via Defence as a Platform (Daap).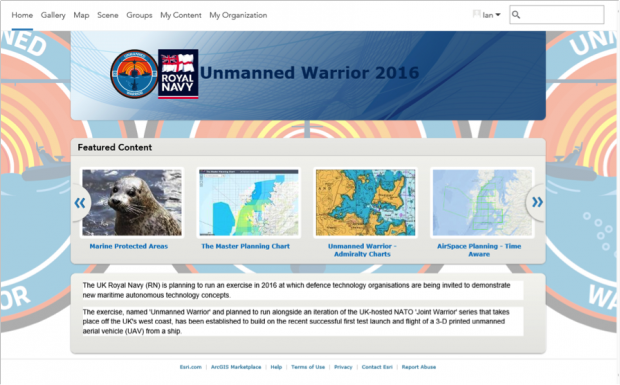 Historically, GIS were heavyweight applications locked to static infrastructures and used for very straightforward tasks such as digital map marking. The move to web-based (secure) service offerings means these key capabilities are now potentially available to everyone in an organisation and used to exploit the 'where' and 'when' in information holding, enabling commanders and decision makers to determine the 'what next'. All this in almost real-time, across any network and on any device. The development is significant, but has defence fully embraced its potential yet?
However, the main limitation in further exploiting GIS to help make information a true, strategic asset is no longer the technology but, arguably, defence's appetite for innovation and change.
Defence understands that it faces many challenges and the clearly stated vision is to 'deliver information capabilities to defence that act as a force multiplier, and to do so at pace.' Given the importance of Geographic Information to defence (both GeoSpatial and GeoTemporal), GIS can only support this initiative by providing relevant services across the Enterprise. The cloud-based GIS planning services being exploited by the Royal Navy for Unmanned Warrior is one example. The ArcGIS system of technologies provides such an approach, where Geo-services can be delivered to any user, on any network over any device - ensuring the strategic importance of information can be unlocked.
GaaS (Geo as a Service) could deliver across the totality of defence's enterprise and afford every user (whether a deployed/ dismounted, war-fighter or a decision maker within a strategic headquarters) the information and understanding they need, in a timely manner and with the same consistent look and feel. Users benefit from the full range of tailored services required to meet the demands of any user (Planning & Analysis, Operational Awareness, Field Data Capture, Asset Management and Community Engagement/ Collaboration). All such services can be rapidly deployed, with minimal risk and cost, using commercial Off-The-Shelf (COTS) technology in an open approach – open standards, open architecture, open development and exploiting open source; the only constraint upon deployment is the local infrastructure as they could be provided via a secure cloud, directly onto individual devices or a hybrid of the two. As such, defence's vision for Information is achievable.
Technology has now developed to the extent that the main limitation to maximising the strategic value of GeoSpatial, GeoTemporal and Geographic information is whether the wider community can embrace these leaps in capability and stop thinking about GIS as a specialised tool to merely mark maps digitally?