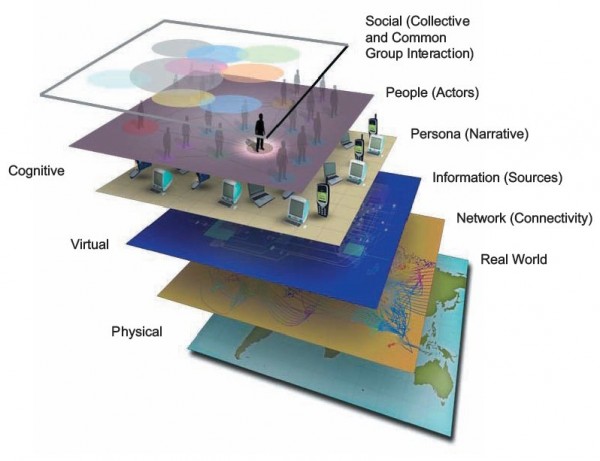 As Head of the Defence, National Security and Public Safety team at Esri UK, our mission is to deliver intelligence, information, services and force elements to defence including deployed forces and to other government departments and international partners.   We provide geospatial information exploitation capability, working with the Armed Forces - contributing towards a safer world. And an interest in geospatial information is an interest in Geography.
Geography is not a common topic when discussing 'cyber'. Normally the conversation revolves around networks, anti-virus software and the Internet. However, as everything happens somewhere, geography must be able to play a role in understanding the challenges and opportunities relating to cyber operations by providing the framework to pull together all the constituent parts of the cyber puzzle.
The ability to simultaneously analyse information from the cognitive, virtual and physical domains requires a common framework. Such a framework already exists – geography. Almost everything happens somewhere and geographic information systems, which defence has already invested in, allow complex and large datasets to be identified, visualised and analysed to produce actionable intelligence.
If operatives are not aware of the human, cultural and physical geography of their targets, the impact of their campaigns could be counter-productive. Precision targeting of information is essential to successful cyber operations. For example, it is necessary to see the relationships and interactions between decision makers and understand the environment in which they live and operate (cognitive domain), in order to potentially target individuals or networks (in the physical domain) at the right time, in the right place, with the right message - while taking into account cultural and other regional factors. Effective decision-making requires a full understanding of the totality of the cyber supply line, spanning all three domains, rather than simply focusing on individual discreet and isolated activity.
However, if all three domains are not fully understood, holistically, the result of the operation may have a negative effect. It could be that given the desired outcome of the operation, defence may simply choose a soft rather than kinetic operation and target a wider audience using social media, in the virtual domain, to provide positive messaging to counter the need for kinetic operations.
The recently announced 77th Brigade, dubbed `The Facebook Warriors`, acknowledges the wider operational importance of using psychology and social media to operate in the information age. This puts in place all the required capabilities to conduct effective cyber operations, which means defence now needs to coordinate activity across all three information domains in order to achieve success.
Geography is a powerful framework to help identify and exploit key information and manage big datasets effectively.   As defence resources are finite, we need to operate more smartly by understanding the totality of the cyber environment in order to decide the best course of action - whether that be firing a missile or sending a Tweet.
Read about other issues of defence cyber in MOD's Cyber Primer. Discover more about the variety of work in MOD's Science and Technology Cyber Programme.