Virtual reality technology is no longer a futuristic concept, as the UK government invests in making a more realistic training experience for frontline soldiers.
Plextek Consulting has been working with the Defence Science and Technology Laboratory (Dstl) to create an innovative medical immersive simulation training system for the military, using a virtual reality headset - the Oculus Rift.
With funding supplied by Dstl through the Centre for Defence Enterprise 2013 themed-competition 'The Medic of the Future', we have been working alongside Bespoke VR to enable multiple trainees to use the headset, whilst still being located within the same setting.
The solution aims to simulate pre-hospital care on the battlefield and allows trainees to negotiate and prioritise clinical needs - teaching teamwork and decision-making skills within high-stress 'under-fire' scenarios. With the Oculus Rift headset, soldiers can look all around their surrounding environment, smoothly navigating with a hand-held controller to head across the virtual battleground and attend to the casualty. The real-life perception of these scenarios can create a strong response level and help to prepare trainees by giving them a vision of what they could experience during military conflict.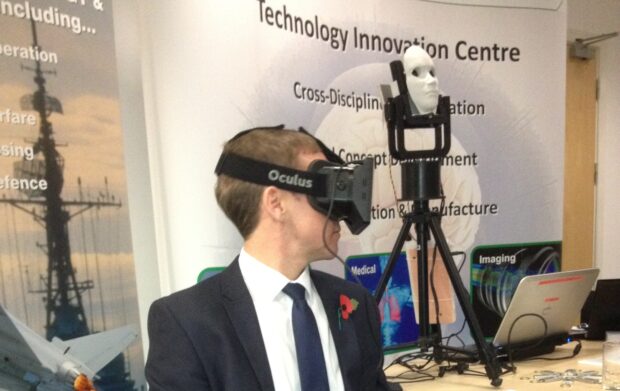 To ensure the system would be suitable for use by military personnel, we worked with multiple stakeholders. Joint Medical Command (JMC) and Army HQ determined the strategic needs of the system and where it could fit with current training modules. The Royal Army Medical Corps in Germany determined how (from a Team Medic training perspective) the system could be integrated and the suitability of the user interface. This collaboration benefited the design process and helped the team to determine the key factors for successful implementation.
The next part of the process involved meeting with military personnel from the King's Royal Hussars to find out how the training could benefit qualified Team Medics.
Working with organisations such as Plextek Consulting, the Defence Science and Technology Laboratory has been able to tap into an extended network of collaborators, and more importantly, into new technologies, innovation and skill sets - this has helped in the formulation, integration and delivery of our research programmes, enabling us to meet customer requirements. Building partnerships with innovative, agile and adaptive organisations has helped us make best use of valuable resources and ensure value for money, whilst additionally providing us with cutting edge solutions. Neal Smith, Dstl Capability Advisor - Medical Sciences