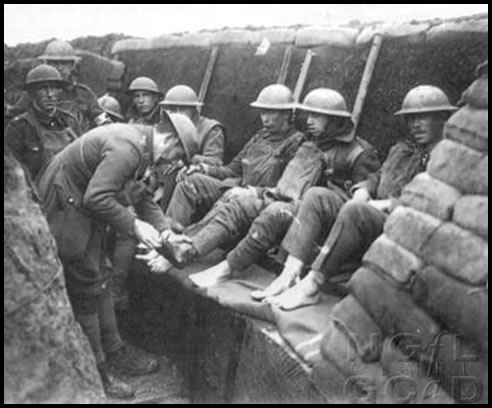 If you received a gift of a pair of socks this Christmas, you may reflect for a moment on the importance of these small articles of clothing and a history of innovation.
In 1914-18, protecting soldiers from trench foot meant taking measures to keep the feet and legs as clean, warm and dry as possible - as well as improving conditions in the trenches. Special large boots were issued which allowed for shrinkage when wet and also for two pairs of socks to be worn. Socks were not only an essential part of keeping feet healthy and comfortable, but gave those at home a way of contributing to the safety and comfort of their men at war. Knitters were called upon by the government and Red Cross to knit for the war effort during both World Wars.
These knitters benefited from the industrialisation that characterised the changing world at the beginning of 20th century. Through innovation of design, sock knitting machines, invented in the century before, were made available. Through innovative business models, the knitters could have a sock knitting machine on condition that they make socks for the troops (usually at least 30 pairs). Dr Hilary Kent, MOD chemist and operational analyst, who develops defence science and technology policy, also keeps the ideals of the World War knitters alive by restoring sock machines of the period - and knitting socks!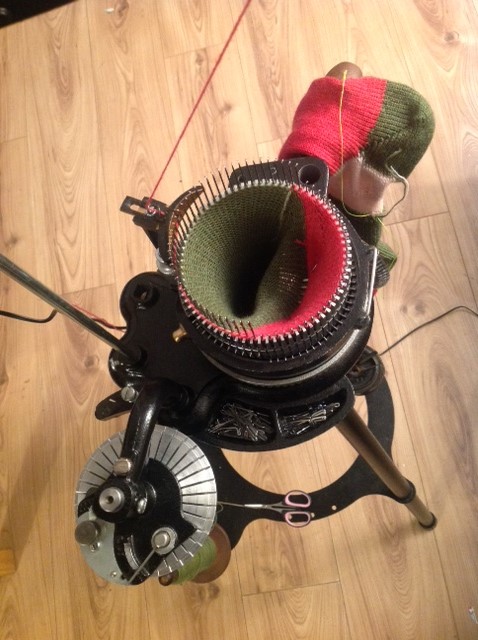 Until World War I socks typically had seamed toes, which caused great discomfort - the seams rubbing the skin and causing wounds open to infection in the treacherous conditions in the trenches. Then Secretary of State for War, Horatio Herbert Kitchener is credited for finding a solution for this problem - a seamless grafting technique that is known as the Kitchener Stitch and still in use today.
Gum-boots with thigh extensions were issued from stores close to the firing line. The boots needed to be kept dry before issuing to the soldier and this was achieved by driving hot air through the boot to the toe by a pipe fitted with rubber tubing at the store. Two pairs of woollen socks were also required and it was recommended that the boots should be worn no longer than 36 hours at a time. Dry socks, were provided by the Divisional Sock Stores which sent waterproof bags full of clean dry socks up to the trenches every night – enough for every man to have a fresh pair of socks every twenty-four hours. The dirty socks returned along the same route and sent to the laundries.
The health, comfort and care of the feet was of prime importance:
Washing of socks is a matter that has to be performed with the greatest care and certainly should not be performed very often. Careful drying and cleaning as above described is sufficient for several days at least. The material of which the socks are made should not be too thin, and too. thick a material is equally an error. Well-made, knitted, woollen socks of medium thickness are undoubtedly the best. Cheap woollen socks are rarely well made or finished, and invariably shrink in the wash, and it is probable that in ordinary weather stout merino socks are preferable to these. For those who can afford it there is nothing more comfortable than two pairs of thin socks worn one over the other, but of course this entails four pairs in all. Every foot soldier should be able to darn his own socks, and be provided with materials for this purpose, and at the periodical foot inspections, socks should also be examined to see that holes are not allowed to go beyond repair.
The Care of the Feet on the March - Lieutenant-Colonel C. H. Melville J R Army Med Corps 1909.
Today, waterproof, innovative bacteria-zapping socks are issued to troops. The knee length socks have antimicrobial properties (similar to those found in medical dressings), keeping feet hygienic and warmer during the winter months.
Science and technology in materials continue to advance and textiles are now being developed that incorporate electronics which lighten the load for the unmanned soldier. Smart substances that harden on impact and other novel materials are being developed that contribute to the safety and comfort of the Armed Forces. It is becoming increasingly possible to model, design and construct materials with unique properties. These include:
Smart textiles - with the potential to fully encapsulate integrated functionality within the fibres of textile yarns to provide a robust, inexpensive, flexible platform for a host of enhanced capabilities
Intelligent systems - offering future potential for defence and security applications by embedding intelligent sensing, information processing, communication and other functionality within components and structures
Advanced manufacturing - looking at whether emerging manufacturing tools can be used to produce highly complex multifunctional materials with new and unique capabilities.
Perhaps, when you unwraped your socks this Christmas, you may have remembered those who fought in the trenches and the knitters, who through their dedication, skill and care helped to keep soldiers warm, dry and comforted during two World Wars.
Read about rehabilitation at the Defence Medical Rehabilitation Centre at Headley Court, Surrey in Defence Codex, MOD's Magazine for Science, Technology and Engineering.