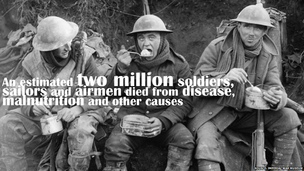 The figures were high – 244,1673 killed, wounded, missing and prisoners on the British sector of the Western Front from February 1915 - October 1918. As the technology of warfare developed during WW1, causing death and injury that had not been seen in previous conflicts, medical advances were needed to treat the high number of devastating injuries.
High velocity gunfire wrecked havoc on the body, often leading to amputation of limbs and disfiguring facial injuries. Appalling conditions meant that many wounds were infected from the onset. Conditions such as 'trench foot' caused by standing in the wet and cold of the trenches leading to decay of flesh, were commonplace. During WW1 'shell-shock' was considered by many as a physical condition caused by reverberations from shell blast, or even as a sign of mental instability.
Responding to the need for speedier treatment, surgeons moved closer to the front line and casualty clearing stations became better equipped with life saving technology. Blood transfusions were performed by transferring blood directly from one person to another. The need to stockpile blood led to US Army doctor, Captain Oswald Robertson establishing the first blood bank on the Western Front in 1917. Using sodium citrate to prevent coagulation meant that blood could be kept on ice for up to 28 days. Other advances such as the Thomas splint saved many more lives - previously 80 percent of all soldiers with a broken femur died.
The legacy of medical advances survived well beyond the WW1 as new treatments continued to be developed, responding to the continuing needs of the severely injured. Antibiotics were discovered in 1928 and the treatment of wounds using antiseptics began in WW1. Improved hygiene in hospitals continued to influence best practice at home.
At the Royal Centre for Defence Medicine based at Queen Elizabeth's Hospital, Birmingham, Brigadier Tim Hodgetts reminds us that medicine has historically advanced during conflict and that it is important to secure the legacy of hard won clinical lessons during contingency.
It will be critical to defend against historical regression through securing our winning culture and sustaining our innovation in order to ensure our continuing ability to rapidly adapt to new clinical challenges in a phase of contingency operations.
Surgeon General Paul Evans also stresses the importance of maintaining the skills and capabilities which have been learnt during operations in Afghanistan.
It is easy to say that we must not let these skills fade, but that can easily happen. We must be positive and make certain that we avoid that happening.
The advances in medical care from WW1 through to recent conflicts in Iraq and Afghanistan demonstrate a speedy and flexible response to medical innovation.  Research is key to retaining and developing the skills and technologies that will continue to save lives and care for the injured, now and in the future.
The BBC has a produced range of programmes focussing on World War 1. In A war unlike any before, Dr Saleyha Ahsan, a doctor and ex-Army officer explains how new equipment and techniques were invented that, across four years of fighting,  saved thousands of lives.
Find out more about the latest medical research at MOD's Defence Science and Technology Laboratory.