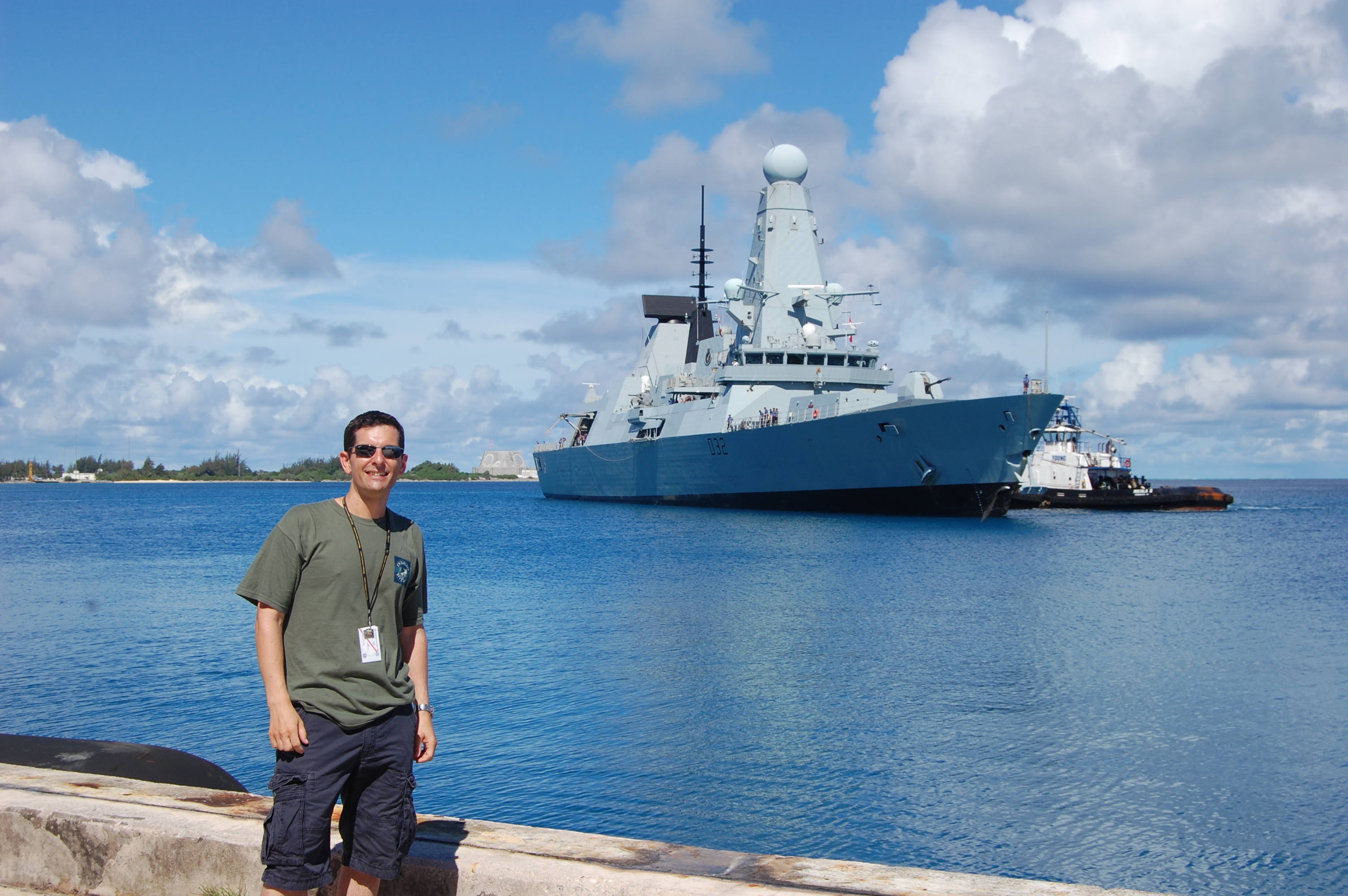 As lead of the Missile Defence Centre's maritime science and technology studies I am currently based in Farnborough, on secondment from MOD's Defence Science and Technology Laboratory. We are looking at the potential of the Royal Navy's Type 45 destroyers and how they can be used in the future.
As part of this research, I shared a three month deployment, living on a remote island in the Pacific working with HMS Daring. This was part of an innovative programme looking at how modifications can be made to an operational warship to detect and track ballistic missile targets in flight.
As part of the team, which included MOD, industry and the Royal Navy, I spent five weeks living on the Kwajalein Atoll, a remote missile test range operated by the US Missile Defense Agency, and which is a five-hour flight from Hawaii. Any hardship was mitigated by the opportunity to bike round the small island and enjoy the beach and water sports! This was hard on my family, but made me only begin to realise just how those on longer deployments must feel when they wave good-bye to their families for 9 months. Fortunately, with the recent installation of wifi on the island we were able to keep in touch despite the twelve-hour time difference.
The programme came about through an invitation from the US Missile Defense Agency and was sponsored by the MOD's Chief Scientific Adviser and the First Sea Lord, with delivery required within 18 months. This was the first time that the Royal Navy had been involved in US led operational testing with the Missile Defense Agency and meant integrating our skills and demonstrating that we understood and could use their systems.
Working with the Royal Navy in this way was extremely rewarding and one of the highlights for me was seeing HMS Daring's Sampson radar, which was used in the research, being operated to support the our objectives. Being at the cutting edge, venturing into the unknown and testing Type 45 in areas that it has never been tested before is an amazing experience demonstrating how science and technology can be pulled through into an operational piece of equipment - the tangible results of MOD investment in research.
Earlier this year, both my team and I received commendations from MOD's Chief Scientific Adviser for our work in delivering the programme. This acknowledged the team's success in delivering the programme within a tight time frame and the first successful tracking of ballistic missile targets from an operational Royal Navy Warship.
We are now looking at another test opportunity in late 2015.
For me, this is an example of how the science and technology community and the armed forces work together to continue the protection of our operations and those of our allies. And for now, it is back to Farnborough to continue our work looking for new opportunities and ways of improving the effectiveness of Type 45 in an unpredictable world.
Read more about HMS Daring and MOD Centre for Defence Enterprise research into ballistic missiles. Find our more about the role of the UK Missile Defence Centre and go onboard HMS Daring with MOD's science and technology magazine Defence Codex.