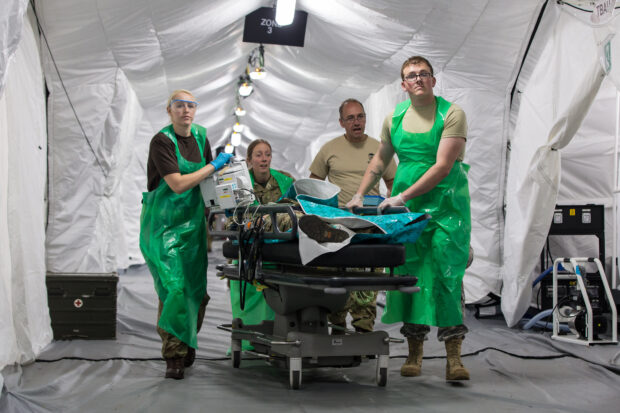 All medical facilities need to ensure cleanliness. But with the nature of military operations always changing, and the potential of chemical and biological attack, military hospitals may have to keep clean both inside and out. All this and be ready to be set up anywhere, anytime.
MOD recognises the need to be prepared to undertake activities where there may be a Chemical, Biological, Radiological and Nuclear (CBRN) threat. One critical aspect is the ability to decontaminate and treat chemically contaminated casualties and to protect medical personnel and infrastructure in a wide range of climatic and operational environments.
A joint MOD and Marshall team identified the key requirements, engaging with the medical staff that would be working in the new hospital. Detailed clinical requirements were developed, whilst Dstl guided the protection and decontamination aspects of the project. DE&S were also involved - leading the project through the procurement process and ensuring value for money. Marshall brought their team of system engineers, designers, supply chain experts and a myriad of other disciplines needed to deliver such a complex military system.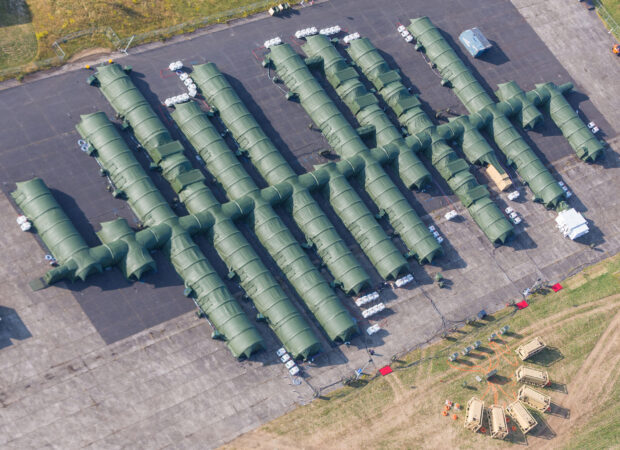 An enduring theme throughout the project was collaborative working, with an open culture encouraging the sharing and solving of problems. It was a large and complex project to deliver a hospital with four resuscitation bays, two operating tables, eight intensive care beds and 48 general ward beds. Additionally, the advance trauma hospital needed supporting clinical and medical facilities, plus command and control systems. Marshall's supply chain team had many challenges, sourcing specialist equipment and supplies from across the globe.
Acceptance testing took place in July 2015 at Bassingbourn near Cambridge. The hospital was then transported to Bordon in Hampshire for user trials during Exercise JORVIK LOOK 2015. The exercising unit, 33 Field Hospital RAMC set up the complete field hospital facility and the full scope of the hospital was tested and assessed, including its chemical and biological protection.
The procurement process demonstrates the importance of robust requirements definition, expert systems engineering, modern procurement processes and, most importantly, excellent teamwork from all participants. The UK's Defence Medical Services received what is thought to be the most sophisticated deployable Role 3 military medical treatment facility in NATO.
A few facts:
Size: 140M x 80M – fitting inside a 400m running track - just!
Taking 72 hours to set up to full operating capability
Storing 60,000 litres internally to protect from contamination
Using 16 KM of electrical cabling
Providing 2400 power supply points - many with safety backup supplies
Requiring 120 x ISO containers to move the hospital and all its medical equipment
Incorporating 6 x 350 KW generators with a maximum power of around 2 MW - additional generator capacity is provided for backup and patient safety.
See how the field hospital was parachuted into Norfolk.