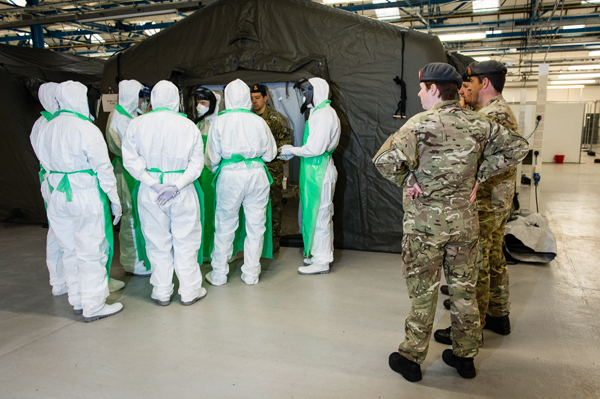 The recent Defence and Security Equipment International exhibition (DSEI) exhibition in London featured a Medical Innovation Zone - supported by Defence Medical Services and the Surgeon General - demonstrating the latest advances in clinical care – from point of injury or illness through the entire treatment pathway - to rehabilitation.
DSEI hosted a conference on the lessons learned and the reasons behind the Ebola crisis in West Africa. They also explored how to plan and prepare for possible future outbreaks of the Ebola virus and other contagious diseases. The Medical Innovation Zone gave visitors the opportunity to visit the Battlefield Advanced Trauma Life Support Ebola Virus Disease Treatment Unit, which demonstrated the importance of personal safety during the treatment of victims of the virus.
Here we look at some of the ways MOD and the Armed Forces have been working with government, industry and others in a worldwide effort to combat the deadly Ebola virus.
The Defence Science and Technology Laboratory (Dstl) has an active research programme on Ebola, developing expertise in handling and manipulating the virus. They advised on the biological and physical aspects of the virus and deployed highly skilled research scientists to the diagnostic laboratory at the Kerrytown Ebola Treatment Unit in Sierra Leone.
Dstl also worked closely with BBI Detection to provide Public Health England (which co-ordinated the UK response) with diagnostic devices to identify individuals infected with the virus.
The Army Medical Services Training Centre was tasked to design, construct and assure training for what has been described as the 'most dangerous medical mission ever undertaken by Defence Medical Services'. They developed and delivered an affordable and flexible training system that ensured that each soldier working in the environment was prepared and sustained to the required standard during operations, provided staff on the ground with the knowledge, skills and confidence to work in the extremely dangerous environment.
This summer, Prime Minister David Cameron presented a specially designed medal to 3,000 people - members of the Armed Forces, NHS doctors and nurses, laboratory specialists, civil servants and non-governmental organisations - who were involved in helping to stop the spread of Ebola.
When the world faced this crisis Britain and brave British medical staff, military personnel, aid workers and volunteers stepped up to the plate.
Read more about Learning from the Ebola Crisis in the latest edition of Defence Science - MOD's magazine for Defence science, Technology and Engineering.
Find out more about Dstl support to combat the Ebola Crisis.