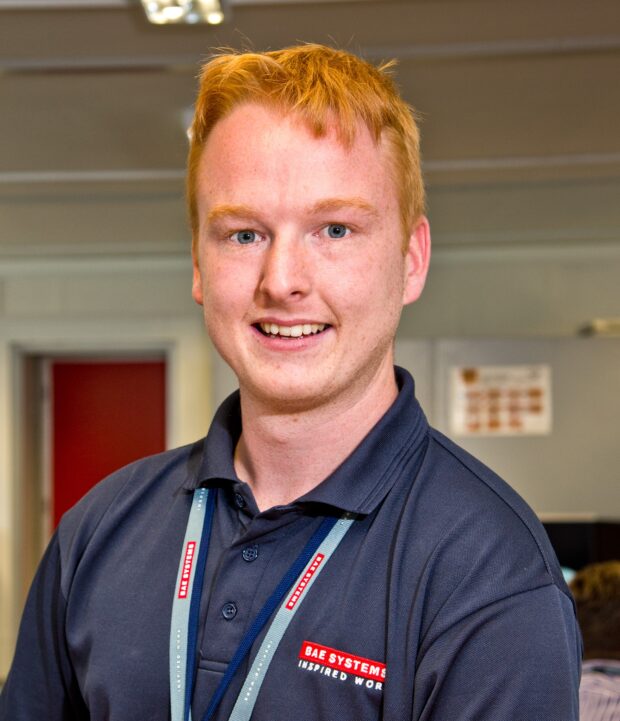 Paul Haynes talks about his work and explains what it is like to be an apprentice mechanical engineer with BAE Systems.
Tell us your story: what made you choose an apprenticeship and what is your current role? I joined the Royal Navy at 16 as a Mechanical Engineering Technician (submarines). After finishing my dry phase training, I decided that the Armed Forces life wasn't for me. The experiences I had in the Navy made me realise that working on submarines was something that I would be happy doing, so I started looking for alternative employment. BAE Systems offered four-year work based apprenticeship schemes, so I applied to become an apprentice mechanical designer. I'm currently in my third year and working on the Successor Project.
What's your typical day like? There are so many different aspects of design that each placement is different. On my current team I extract information from drawings and use it to route a pipe system in the live 3D model. Understanding the information involved is not a simple task; I've found that my learning curve is steep and there's no end in sight!
Tell us about a project you've been working on recently. I have been heavily involved on the Training Facility Superb (TFS) project taking place at Furness College. This project involved creating a structure that imitates a section of a submarine. I routed three pipe systems into the TFS 3D model which were then manufactured and fitted by first year apprentices in the college. This project was started in an attempt to recreate the conditions the apprentices will face on board a submarine which helps to ensure the correct quality of training is received prior to finishing their apprenticeship.
What is your proudest achievement since joining? During my third year on the apprenticeship, my line manager nominated me for Apprentice of the Year in a government-led national scheme. I'm currently in the second stage of the process and I'm hoping to progress further. I'm very proud of the fact that I was one of the chosen nominees, but even more proud that I've made it through the first stage.
Apart from your day-to-day role, what other projects have you been involved in? When I first joined BAE Systems, I was asked if I would like to join the Apprentice Council. Two years on and I'm chair of both the Local and National Apprentice Council. The aim of this council is to constantly strive to make a positive difference to the evolution of apprenticeships. I have also been involved in the organisation and planning of a liaison project with local schools to boost pupils' interest in engineering to potentially increase application rates for apprentices.
What are the key things you've learned since joining? If you're enthusiastic and work hard, someone will notice. In my experience apprentices are often praised for their work and regularly nominated to compete in national competitions such as the WorldSkills UK. Never sit in silence – if you're struggling with something, don't be afraid to ask for help. My colleagues have always been able to assist me when I've had a problem.
Where do you see your career in five years? I'm not sure; I'm still debating over which route to go down. In five years' time I either want to be a chartered mechanical engineer or a senior/principal designer. For me, both routes have excellent progression but involve different areas of work. As I come to the end of my HNC I will seek guidance from people who have already been through the schemes.
What is the culture and work environment like? I'm based in a design office and I find the work environment to be stimulating. My team is made up of experienced designers and new contractors so it stands to reason that information is being passed on in all directions.
What's your favourite thing about working in defence? My favourite thing about working for BAE Systems is that throughout my apprenticeship I haven't just been a number – I've been a valued employee. I've had a review every 12 weeks since I started in the business which ensures the quality of the training we receive.
In your mind, what makes engineering a career that young people should consider? Engineering is developing across the UK, being employed by a company such as BAE Systems allows you to progress and keep up with the advancements in the sector. The quality of training that they provide, the responsibility they give their employees, and the way they treat their staff is the reason that I think BAE Systems stands out as somewhere young people should work.
What would you say to convince a friend to apply? I would try to convince them that the four year scheme isn't as long as it seems. The training that you receive throughout the apprenticeship is highly esteemed - they're training you for a career, not a short-term job. The opportunities that you're presented with throughout the scheme give scope for personal development inside and outside of the workplace.
What advice would you give to a candidate interested in an engineering apprenticeship? Do your research, learn what you're applying for and be sure that you have looked at all of the trades that are offered. Listen to the more experienced members of the team; you will learn a massive amount from your work colleagues.